How Can Marketing Automation Improve Productivity in the Workplace?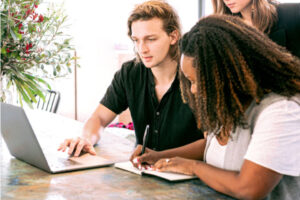 Marketing automation is a core component of most successful companies' digital marketing efforts today.
Companies with automated marketing capabilities capture more leads and are better equipped to deliver the right message at the right time.
Marketing automation increases customer engagement and their likelihood of purchase, and helps businesses achieve significant ROI increases—all while reducing the risk of employee burnout!
Let's take a closer look at how marketing automation works and what it can do for your company.
Why Automate Your Marketing?
Companies today use several different applications and portals to drive their marketing campaigns, resulting in a massive trove of customer data that must be sorted, categorized, and analyzed to be useful.
The arduous manual work of integrating all of them into a cohesive marketing campaign can be extremely time-consuming for your employees, burning them out on tedious tasks instead of saving their creative juices for the work that only they can do.
Marketing automation is a solution to this problem, improving the employee experience by automating all the tedious tasks no one really wants to do. At the same time, it allows your marketing team to focus on more creative initiatives, increasing the overall efficiency of their workflow.
Marketing automation helps employees be more productive while improving your company's bottom line.
Marketing automation connects disparate applications and portals in one easy-to-use platform, making it easier for your employees to manage the full slate of your marketing efforts: email subscriptions, social media accounts, blog posts, podcasts, and anything else you might have brewing.
How Marketing Automation Boosts Workplace Productivity
In addition to the time saved by marketing automation, you can also expect to see a boost in employee productivity.
This starts with email organization. Sorting through thousands of emails, trying to find the one message that's relevant to your latest marketing campaign can be a huge waste of time. Marketing automation connects all of your email accounts into one platform where you're able to manage everything in one place—even if it comes from multiple sources with no native integration.
Email scheduling and lead generation are two particularly time-consuming tasks that can be streamlined with marketing automation.
For example, if you're using an email campaign to nurture leads, an employee would have to check which customers responded and where, then write follow-up emails manually. With marketing automation, your employees can develop an automated email drip campaign that delivers tailored messages to your customers at every step of their buying process.
Their details are already stored in their customer profile, limiting the time spent recording information. When all marketing channels are linked through automation, this also allows your shopper to navigate a smooth and curated path that's consistent across different platforms.
With marketing automation software eliminating repetitive tasks like email scheduling and lead generation, employees can spend more time on challenging projects that demand their full attention.
The increased productivity and streamlined workflow brought about by marketing automation will also improve employee satisfaction, allowing your company to attract even more talented developers, marketers, and salespeople—and maybe give you a little extra time for yourself!
How Marketing Automation Benefits Your Customers
From your customers' perspective, the benefits of marketing automation might be difficult to perceive. But they are there, and companies who implement robust marketing automation policies see the results.
Customers interact with your company solely through online touchpoints, and the quality of these interactions directly impacts their perception of your brand. Manually building customer profiles from disparate sources of data is an arduous task, one that could seriously impact your employees' focus on the more important tasks at hand.
Marketing automation gives you a single point of customer data integration and can provide actionable insights into who your customers are and what they want from you. If a particular email campaign isn't resonating with a certain segment of customers, you can tweak it, turning a lackluster email campaign into one that is more impactful.
The time you save with marketing automation frees your employees to fine-tune email campaigns, improving the customer experience even further.
If you want to market your business today, personalized or tailored messaging is a must. Customers expect you to know what they want, and that's only possible if your marketing is targeted.
Marketing automation makes it easy for companies that have a large customer base or those with multiple products/services to provide tailored messaging without worrying about human error.
The best part is that even though this software speeds up the activities of business professionals, it doesn't sacrifice the individualized experience of your customers.
Sending out personalized messages that add value for each customer allows them to engage with your brand however and whenever they want. It also allows companies to parcel out their marketing strategy into discrete components since you know you don't have to close your sale now—you already have everything you need to sell to them once they're ready.
This avoids the dreaded "sales-y" vibe of marketing and ensures that you're only marketing to the customers who want your product or service.
If you are looking for a way to streamline your digital marketing or sales process and make the most of limited resources, marketing automation is the way to go.
Marketing automation is quickly becoming one of the best ways for companies to provide tailored messaging without sacrificing individualized customer experience; this, in turn, improves engagement and increases revenue—while also reducing employee burnout.
You can get started with marketing automation in just a few simple steps. Once everything is set up, you'll see how easy it is for employees of all skill levels to navigate this process seamlessly; helping your company grow while serving your customers better than ever before.