Not having a mobile version of your website will result in a lot of lost revenue for your business…
A lot of people have asked us what should they do if they are happy with the website they have and want to keep but…It's NOT responsive in design and it doesn't pass Mobile-Friendly Test! What can they do?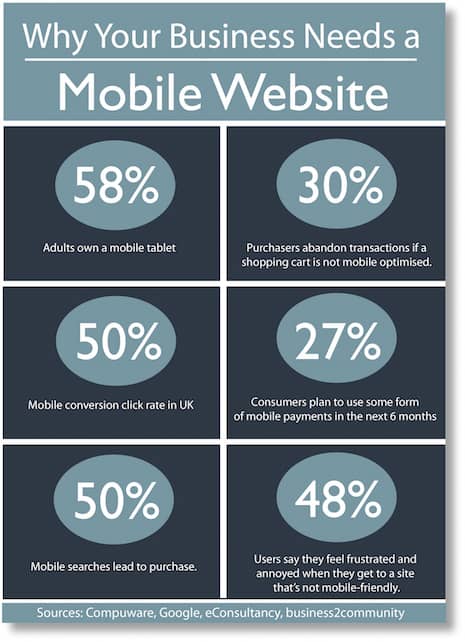 The answer to this question in simple terms is, you can keep your non mobile-friendly site 'as is' but you will also need a custom built mobile version of your site. So when anyone visits your web address on a mobile, they are redirected to the mobile version of your website. This is the alternate to having a completely new responsive website built from scratch. Either choice is fine. The important thing is that your site is mobile friendly.  Just depends on which solution suits your needs best.
With most people doing their searching and browsing online via a mobile device whether it be an iphone, android phone, or ipad, the time for mobile is now and into the future. When people are searching for a plumber, a doctor, a restaurant or any other service or product you can think of, they are reaching for their 'best friend'…. their smart phone. They carry it around absolutely everywhere.
Google has now changed the landscape for businesses because websites that are not mobile friendly will not rank in their mobile search results. This is a really big set back for many who may not even be aware that their mobile web presence has been wiped out. You don't have to be one of these businesses.
This is what Google had to say back in April, 2015;
"Starting April 21, we will be expanding our use of mobile-friendliness as a ranking signal. This change will affect mobile searches in all languages worldwide and will have a significant impact in our search results. Consequently, users will find it easier to get relevant, high quality search results that are optimized for their devices."
Is your website mobile friendly? If not, you are losing out on potentially more customers and more revenue! Stay ahead of the curve and your competitors. Call us on 086 8651301 or email us today to get a free quote.
Our experienced, professional designers will create a fast responding attractive mobile website for your business with great features such as tap-to call, tap-to-email, Google Maps (so they can find you!) and lots more.
When a potential customer or client lands on your site from their smart phone, they will be presented with a beautifully designed, easy to navigate website with clear calls to action to get them to call you or email you right there and then. A great way to instantly connect you with more leads for you to convert into lifetime customers.
Let Us Create Your New Website Today
Speed…
Fast loading mobile website that caters to mobile users incorporate great features such as tap-to-call, tap-to-email and Google Maps
Simplicity…
Straightforward and simple navigation. Push you ahead of your competition with a cutting-edge, professional mobile website design
Current…
Mobile internet usage is on a fast rising upward curve and it is an ESSENTIAL ingredient for any successful business.
Connected…
Consumers today are so fast-paced that they want to connect with you INSTANTLY. You should be making this as easy as possible for them to do.